The end of a calendar year is a great time to look back over the year and think carefully about what we've learned.
This year, we've decided to share those learnings in an Advent Calendar, with a new lesson learned shared every day.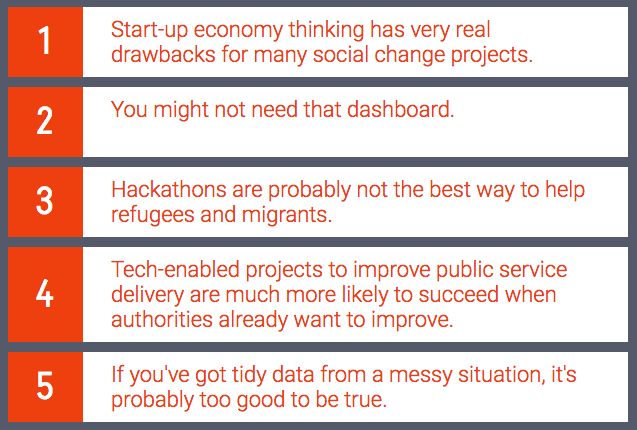 Not all of us celebrate Christmas (or advent), but we liked the format of sharing one statement a day as a fun, easy way to share information.
We used code from Noah Veltman's Wikipedia Advent calendar, which he used in 2013 and 2014 to share a Wikipedia list every day of December.
We've linked each of our statements to a research piece or opinion piece which goes into more detail. It's worth noting that not all of them are specific things that we learned this year, but almost all of them are things that we found ourselves saying a lot in 2016.
In some cases, this was in an effort to counter hype (see: dashboards) and in others, to make sure we're focusing as a broader community on the things that matter, like representation and actual needs, rather than the things that seem 'shiny' or 'innovative', like new tech tools or platforms.
We included key pieces from people in our community findings that made us rethink our own practices. Obviously, some nuance is lost in the one-statement-per-day format, but we're looking forward to doing the same exercise in a year's time, and seeing how these statements evolve.
Follow this thread on Twitter to be kept up to date with the day's statements, or check in daily at engn.it/advent for new advent calendar entries – and we'd love to hear your own learnings around tech and social change, too.
Tweet using #ER2016 if you've got things to share!