Applications for the Matchbox Partnership are now closed.
Are you working on social change issues?
Seeking to change your social or political environment for the better?
Interested in strengthening your organisation and building your data & technology intuition?
Based in Latin America and the Caribbean or Sub-Saharan Africa?
Read on, a Matchbox partnership might be a great fit for you!
At The Engine Room, we believe that regional and local organisations play a fundamental role in effective social change work. Our Matchbox partnerships exist to support these teams, accompany them through project design and implementation, and improve their data and tech capacity.
We're excited to announce the opening of applications for our next cohort of Matchbox partners. Matchbox partnerships consist of The Engine Room team members accompanying you and your team through a project. We provide intensive and holistic support that's tailored to your specific context and the nature of the challenge you're addressing. We're eager to work with teams who understand their social and political context well, are passionately but realistically moving their project forward and, most importantly, are motivated to learn new things.
For more information on the application process, keep reading this post.
Who should apply?
Matchbox is a direct support partnership, not a consultancy or grant program. It consists of us providing holistic support to teams and organisations based in Latin America and the Caribbean and in Sub-Saharan Africa over the course of 12-18 months. We'll explore how to more strategically address a social or political problem, help you design and implement a project, and build up your institutional and technical capacities.
That means that you should apply if you already understand the problem you're trying to address and the environment in which it's situated and are excited to learn new methods, approaches and tools to address it. We're especially interested if you or your organisation are doing work around political and social change issues locally.
Some (but by no means all!) of the questions we can help you explore include:
How can I design a realistic yet impactful project to address a complex problem my country is facing?
How can I better understand the people being affected by this problem and how can I incorporate them into my work?
How can I strengthen my organisation's or team's capacities to be able to better accomplish our mission of social change?
When and how should I incorporate data and technology into our work? What skills are required to do so strategically and effectively?
When should I make room for learning during our work and how can I implement the lessons? How can I adapt and pivot a strategy or project?

You could get a lot out of this partnership if you:
Are working on a social or political problem in your country or region and you want guidance on how to better understand the problem, address it and work on it with allies
Are working in the transparency and accountability sector, on anti-corruption work, or on civil and human rights locally
Have a deep understanding of the social or political problem you're addressing
Are a new organisation, just getting started, or an organisation ready for a change
Are excited to incorporate new methods and ideas into your work
Have an appetite for increasing your capacities as a team and organisation, including project design skills and data and technical intuition
What does the selection process look like?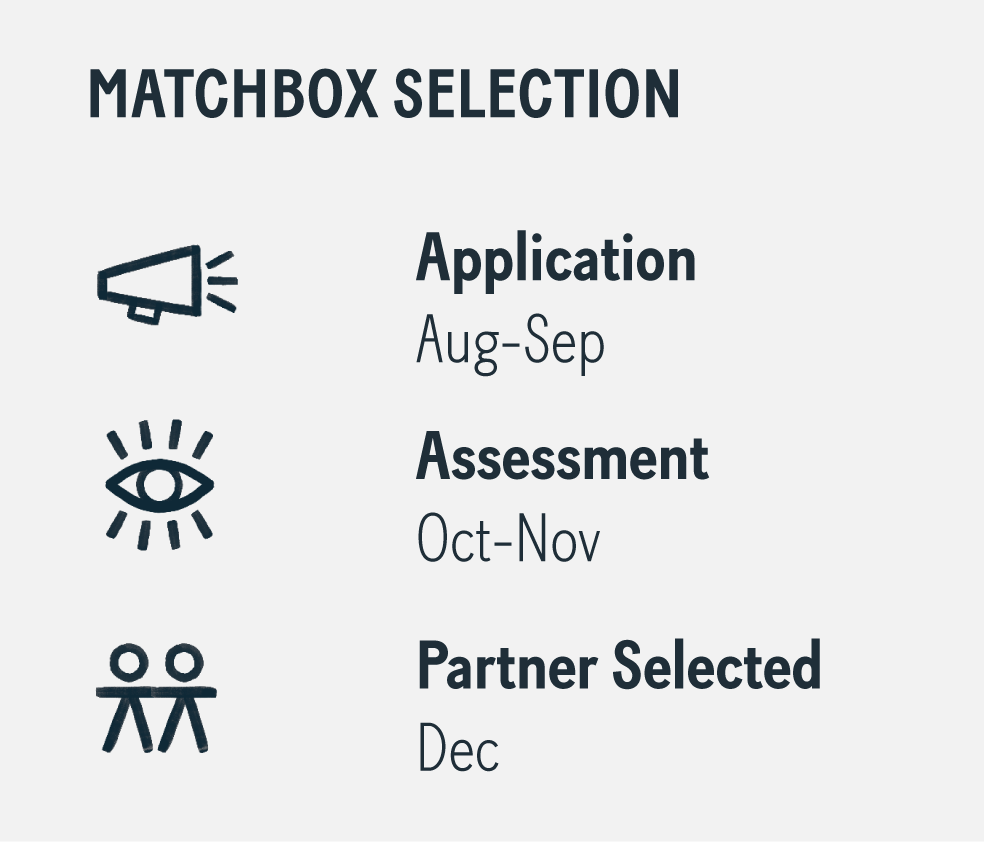 The selection process starts with an application where potential partners explain the problem they are working to address and their ideas for addressing it. This application is due 28 September 2018.
After reviewing the materials from teams who submit complete applications, we ask a smaller batch to answer a second set of questions that help us get to know them better. From these, we choose another subset to participate in interviews and reference checks. At each stage, we will be in touch with you to keep you up-to-date on the progress of your application.
Finally, we select partners we're going to work with throughout the next Matchbox cycle. We do not have the resources to provide in-depth Matchbox support to everyone, but we do our best to add value to every project that applies, including with our Light Touch Support program (LITS).
We've designed this process to help us make sure that we're working with groups that can most benefit from our work. Since we can only work with two teams from each of our regions (Sub-Saharan Africa and Latin America and the Caribbean), our selection process is intensive to ensure a good match.
The deadline for applications has passed.
For the sake of clarity and simplicity, all possible information about Matchbox can't be featured in this call for applications. We know you might have questions or need more information. Remember to check out the resources below for more information and keep an eye on our blog for upcoming posts about the process!
You can also get in touch with us if you have specific questions at anca@theengineroom.org.