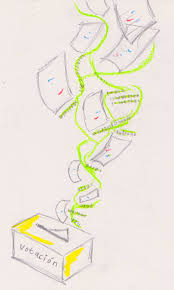 (Credit: Maya Richman)[/caption]
Over the last few months the engine room team has been eagerly reading through applications from both Latin American and Southern African organisations applying to Matchbox.
In the process we gained valuable insight into the common themes that many transparency and accountability projects in the regions attempt to address. You can read about our findings in Latin America here and in Southern Africa here. After much anticipation we are pleased to present our first round of partners. We can't wait to work with them and we hope that you will find their projects as exciting as we do.
Latin America
We received 11 applicants from six countries throughout Latin America for project Matchbox. We are pleased to announce our partnerships with Fundación Directorio Legislativo in Argentina and ¿Quién Compró? from Mexico.
Here is what they will be working on:
Fundacion Directorio Legislativo 
Fundación Directorio Legislativo is interested in visually tracking changes made to bills introduced in parliament as they evolve and transform into law. They will build a website that allows users to compare an original and final version of a bill, and see specifically what changes were made and who made them. People interested in finding out what congress is doing currently have to search through piles of documents and hunt for changes themselves. This tool would make that process easier and share the benefits with the wider public.
¿Quién Compró? uses Freedom of Information Requests to find out how Mexican congressmen and women are spending public money. They have a webpage which publishes articles explaining budget spending as well as allows users to look at and download receipts on items spent by congressmen and women. ¿Quién Compró? will work on building a more robust database management system. This will allow them to store and process data more effectively.
Southern Africa
We received applications from 17 organizations in seven countries across Southern Africa interested in the Matchbox project. We are excited to be collaborating with Kubatana from Zimbabwe as our first primary partner while also providing strategic support to two organizations from Namibia.
Kubatana
Kubatana plans to work with residents in the capital Harare to monitor water shortages and availability of water at taps. Currently citizens face hours without access to water and when it is available the quality of the water is poor. They plan to use the organization's Whatsapp subscriber base to collect information on water availability throughout the city. An SMS-based survey will also be implemented for monitoring and engaging volunteers.
We encounter a lot of different types of projects during the course of our work, which puts us in a good position to provide individual feedback. In our first round of project Matchbox, we made sure to provide each organization with feedback and references to comparable projects. We'll be sharing more about how we chose our primary and secondary partners and what we learned through the process as the Matchbox pilot progresses.
We will be working with our first round partners up until February 2015 when we will open our second round of applications. If you think you meet the criteria then we would love to hear about your project. Check out our website for more details on Matchbox as well as our contact details for each region.