The Engine Room started the Matchbox Program to test and systematize a core part of our approach: providing demand-driven data and technology support for social change initiatives around the world.
Why? Because we believed (and still believe) that every initiative is different and no guide can replace tailored and strategy-centered technology and data support.
The Matchbox Pilot was launched in 2014 and focused on transparency and accountability initiatives in Latin America and Southern Africa. And while we have begun using the support process in work with a variety of sectors and geographies, Matchbox's transparency and accountability work is still a dominant area of The Engine Room's Matchbox work.
This post is a quick summary of what we have accomplished during the 18-month pilot phase.
Excited to learn even more? Here's our full report.
Matchbox at a glance
Since the inception of the program in 2014, we have partnered up with two organizations from Latin America and four from Southern Africa.

Our selection process included open applications, interviews, and scoring along a set of criteria such as the strength of the project idea, experience of the project focal point, capacity to effectively integrate technology into core work, a 'fit' between our teams, and many more. We will be refining our partnership criteria as we further develop it in the coming year based on our experiences in the pilot and sharing it publicly.
The process
Every Matchbox process has been different and we personalized the work from the areas of support, to the team of experts we brought onboard to help.
So how does it work in practice?
In each case we first break down the project idea into tasks and action items to see what type of expertise is needed in each case. We then put together a team of experts, looking for the best "match" to help our partner organization each step of the way.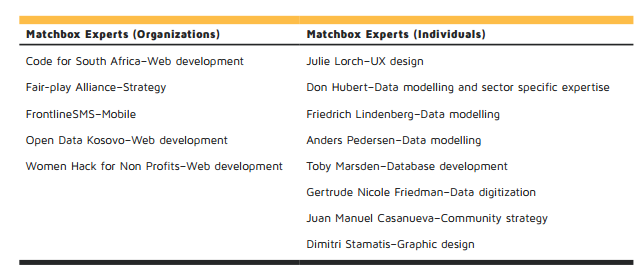 If we do not have in-house capacities, our team looks among our vast networks of experts and ask them to help pro-bono first. When matchmaking with pro-bono expertise is not possible, we identify and contract external experts to work with projects at no cost to the projects themselves.
The issues
In the past, we have provided support to our partners in three main categories:(1) data, (2) technology, and (3) overall strategy. Our most powerful projects have been a combination of all three of these, and the topics covered range from digitizing politicians' expenses, through improving municipal compliance with access to information rules, to monitoring petroleum exploration licenses, to name a few.
Key takeaways
When we designed and launched the Matchbox Pilot, we were exploring several questions related to the use of technology in advocacy. And while we're still in the process of answering many of them, here's a few key takeaways from the pilot phase:
Overall, we've seen our partners become enabled to better articulate their technology and data ideas, adjust their in-house resource commitments to design and technology in strategic ways, connect at local and regional levels with partners who they are able to engage with directly, think more strategically about the role that technology and data can play in their future projects, and and, ultimately, dramatically improve their plans for using data and tech in ways that strengthen rather than distract from their past successful strategies.
In most of the pilot projects we found security (physical, digital, and psychosocial) to be an unexpectedly important component. We knew that security expertise and support would be necessary for meaningful transparency and accountability efforts, but the scale and complexity of the issue was challenging.
In all projects, we found ourselves needing sectoral support which took more networking and learning than expected, but proved incredibly useful. In several partnerships, as was to be expected, we had to work very hard to to keep our eye on the longer term goals of a project when we were leading and managing several technical outputs, and focusing on developing the strategic capacity of funders to do the same.
Any many others.
Are you excited to learn more about what we learned during the pilot phase and what exactly a Matchbox project look like? Do you want to know more about our partner organizations and the issues they sought to address?
Read more in our report!