It might sound obvious, but just because a civic tech project releases new data, organises old data, or goes live, doesn't mean it will drive social change.
A growing body of research suggests that tech isn't what makes the difference. It's what comes after.
There are solid examples of successful projects powered by great tech which aim beyond the tech to drive change, but oftentimes that's harder to plan, describe (and measure) than the tech itself.
As we move to the next project phase with our Namibian Matchbox partner the Institute for Public Policy Research (IPPR), we want to talk about how we are working with partners to push past a successful tech project towards real change.
When we first began our work with IPPR, they were faced with a knot of information management challenges. They needed a tool to digitise, compile, and visualise data on oil and gas licences, and the corporations behind them.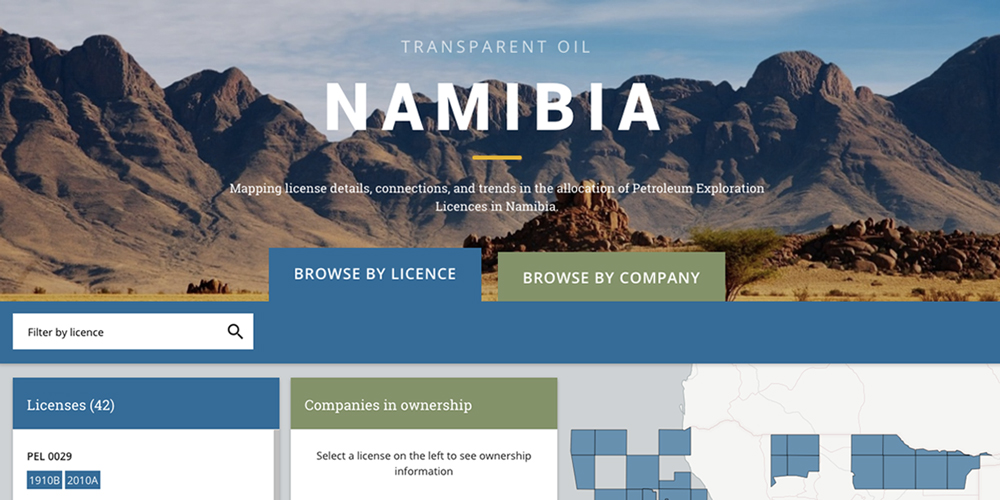 Here's how we 'matched' up with IPPR through Matchbox, developed Transparent Oil Namibia to reach their vision, and strengthened their data management practices in the process.
We're driving beyond the tech in two parallel ways: 1) supporting IPPR's advocacy in Namibia and 2) replicating the work with other organisations in the region.
We advocate…
Ultimately, IPPR didn't want a database. They wanted to create more accountability in the extractives sector and make corporate ownership structures more transparent so an equitable amount of the revenue from extractives go to the people of Namibia. And that takes policy changes.
For IPPR to consolidate the gains made through their investigations, they have to advocate for policy reform.
We're now working with IPPR to develop national-level policy change on public access to information, especially around licence transfers and corporate ownership. It's a logical sequence: policy change is the first step towards more stringent reporting. Stringent industry reporting decreases the chances of malfeasance, and less malfeasance increases the chance the Namibian people can benefit from the resources under their feet.
…and replicate.
Some of the data collection processes and advocacy strategy will stay unique to IPPR, but a lot of elements are reusable: the tech's front-end design, the data model, the digitisation process, and some of the process behind data scraping and collection to name a few.
We're now taking the tech and data modeling process from the IPPR project and replicating it for other organisations facing similar challenges when organizing extractive industry licences.
We're liberating even more #extractives data – replicating https://t.co/DsxayRbxqg built w/ @ipprnamibia #MBsprint pic.twitter.com/Vn05cTCrr2

— The Engine Room (@EngnRoom) August 15, 2016
Our first replication sprint is happening this week in South Africa: two project teams, several designers, developers, policy wonks, and data experts have come together to build two functional prototypes of licence databases for organisations in Malawi and Zimbabwe.
We worked remotely to collect, clean, and organise as much relevant data as we could before now.

Matchbox Replication Sprint Day 2: What do you want to achieve? What features can help? #MBsprint #extractives pic.twitter.com/9wubwpiSuM
— The Engine Room (@EngnRoom) August 16, 2016
If the sprint is a success, we'll have two more structured databases on extractive industry licences at the national-level; refined documentation for the complex data modeling and database design of this type of database; a lot more liberated data; and most importantly, two organisations better equipped to lead reform, where the real impact happens.
Follow our Matchbox replication sprint live on Twitter: #MBsprint