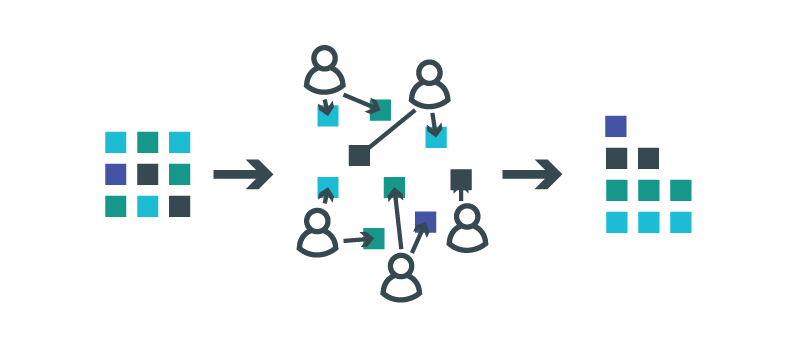 Over the past few months, we've been working closely with Amnesty International to help them think through the technical and strategic challenges required to plan and launch a project which will mobilise the wisdom of the crowd to shed light on human rights abuses worldwide.
The project, Alt-Click, is a two-year project funded by the Swedish Postcode Lottery that aims to inspire a new generation of tech savvy human rights activists to take part in documenting, verifying and collating evidence of human rights abuse. In this context, Amnesty is planning to use microtasking to invite people to analyse satellite images, verify video footage and classify large amounts of social media data.
The Alt-Click initiative is ongoing, but as part of our shared open documentation approach, we wanted to share our first findings from speaking to people who have been part of teams launching microtasking platforms, to see what we could learn from other people's experiences. We were lucky to speak to lots of people with deep experience in this area, from those running microtasking platforms, or specific initiatives. Questions we asked them covered the processes they had gone through to plan, implement and manage their projects, as well as key lessons they had learned from their experiences.
These projects covered a wide range of levels of sophistication and volunteer engagement, ranging from tens of volunteers to tens of thousands. Some were large organisations with dedicated communications teams, while others were small initiatives who recruited a volunteer developer for a week to build a platform.
From our experience, those working in non-profits are often pushed for time, and rarely have time to read through long reports – but, we really believe that lots of what we learned could very well be useful for others who might be thinking about using microtasking in their projects. So, today we're sharing with you a website where we summarised and organised what we found into a (hopefully!) intuitive structure:
https://library.theengineroom.org/microtasking/
Fitting in with our philosophy of re-usability, we intend to use this site template to share learnings about different topics we learn about in the future – all to form part of the engine room's online library, to help contribute to our collective intelligence around technology strategy for those working in social change.
The site is on Github, and we'll keep you updated on future additions to our library.
With thanks to all those who took time out of their busy schedules to speak to us about their microtasking experience, including: Luke Barrington, Digital Globe; Ingo Boltz, Greenpeace Innovation Lab; Flor Coelho, La Nacion Data; Lucy Fortson and Jim O'Donnell, Zooniverse; Daniel Lombrana Grez, Crowdcrafting; Ji Kim Lucas, Qatar Computing Research Institute; Susan Minnemeyer, Global Forest Watch Fires; Eleanor Rusack and Valentina Rigamonti, UNITAR; Brooke Simmons, Zooniverse/Planetary Response Network; Tom Trewinnard, Meedan (CheckDesk); Eva Vozárová, Fairplay Alliance