In early 2022, The Engine Room's permanent ED, Julia, was still out on extended medical leave, as she underwent treatment for breast cancer, and our Acting ED (and long time Deputy Director, Zara) was on her way out. Our new interim ED, GIllian, was coming into the organisation with deep roots in community work but none in digital rights or tech. Laura and Paola, the new Deputy Directors had moved into these positions from programmatic management roles, but without organisational leadership experience.
All of this happened within the context of Covid-19 and the unstable ground it gave us to walk on. While there may have been ways for us to mimic a traditional vertical style of leadership, the idea fit poorly, like a bad outfit three sizes off. So these unexpected events and calls to build on shaky ground had us running towards co-leadership as an opportunity to claim health and well-being for everyone at TER and ourselves, while building strength and resilience.
At The Engine Room, we may have developed our current shared leadership model as much from happenstance and opportunity as we have from any specific plan, but over a year and a half into this work, we're taking a moment to reflect. On what's worked, what hasn't, what we've learned along the way and where we're casting forward into the future — with a whole lot of intentionality.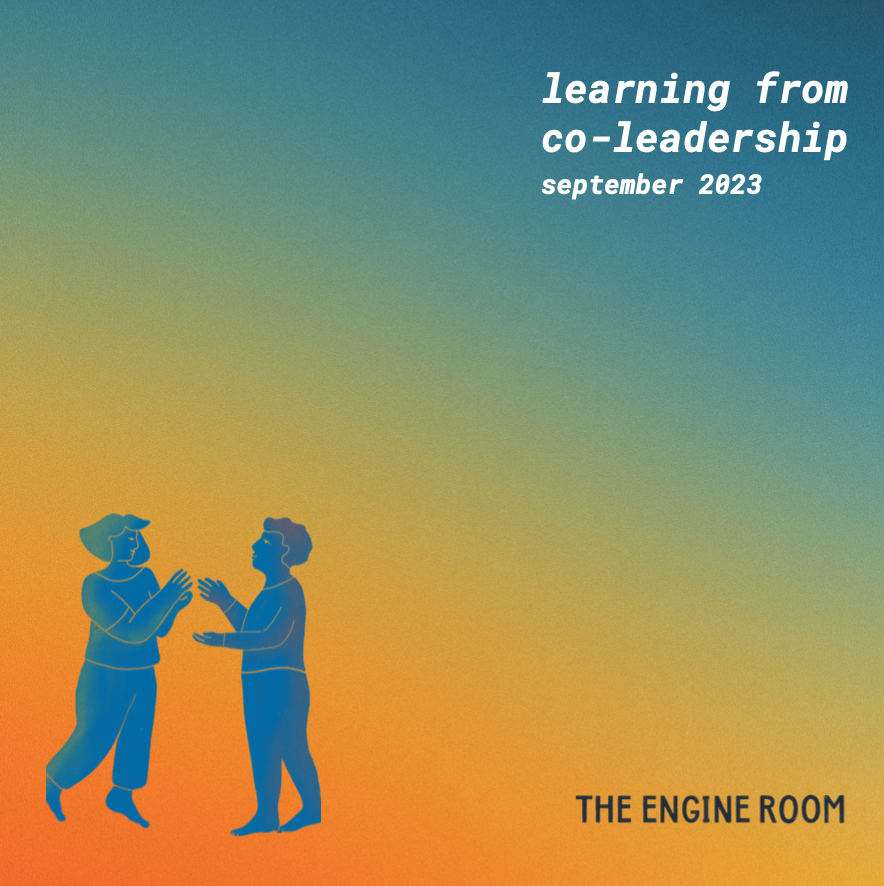 Our approach to building a co-leadership model
Co-leadership looks different for every leader (and every organisation) who is practising it. While the norm is still the single-leader model — whether in a corporate setting or small local NGOs — we believe that a shared-leadership approach can be more responsive to context, leverage the skills and capacities of individuals, and result in a more resilient organisation. For some, it may seem daunting. For us, the attention and dedication to the process has been worth it!
We believe co-leadership is transformative because:

It allows for talented people with diverse lived experiences and skill-sets to develop their own leadership style, while also having the space to rest and recharge. – Julia

It resides in a feminist understanding of collaboration that celebrates divergent thinking and the belief that what is created collectively is something no one person could have come up with individually. – Gillian

We can stand in solidarity with each other by supporting each others' wellbeing, building on one another's strengths, and complementing each other's work and vision. – Paola

It builds muscles, practices and skills that we can then turn towards tackling and dismantling other hierarchies and inequities. – Laura
We've approached the evolution of our leadership model as a journey, not a set of rules written in stone. While we've read and borrowed from a number of resources (check out the list at the end of this piece for some of them), we've carved this path ourselves. This has enabled us to explore ideas in the open, practise our patience, solidarity and kindness to each other as we go, and stay humble as we navigate cross-cultural communications, build trust, and deal with a host of unexpected twists and turns.
Relying on organisational targets and milestones to guide us, together with related (and clarified, and re-clarified) responsibilities and a refined list of organisational values, has helped us stay on track as individuals, sub-groups and as a collective. As you'll see here and in the accompanying booklet, it's brought greater organisational resilience and diverse expertise to TER's leadership.
🎧 Listen to Gillian, Paola and Laura talk about how the leadership team was configured:
🎧 Laura and Paola talk about becoming co deputy directors:
🎧 Julia and Gillian talk about decision-making:
A few things we've learned along the way
Along our journey, we've learned endless lessons as a group, as individuals, with the rest of The Engine Room team, and with partners and peers. Though not all of these will be relevant to you and your journey (or curiosity!), dig into them below and in the accompanying booklet.
Organising our work and collaboration around organisational targets — the work we set out to do and the changes we want to see internally and in the world – gave us more grounding than sticking to static role descriptions.
It's been possible to move quickly while collaborating, as long as we stayed flexible and trusted each other. While we had weekly meetings with all four of us, we also emphasised the importance of meeting as groups of three and every possible dyad (7, if you wanted to know). By trusting one another to move forward in a variety of clusters best placed to meet opportunities, responsibilities and organisational needs, we were able to keep projects and priorities moving and make space for rest.
There are actually four "I"s in our team (does that make us good leaders and bad spellers?). By which we mean, part of what kept things moving along was that we acknowledged, respected and celebrated what we each excelled at as individuals, rather than assuming we all had to do things the same way.
The promises of more resilience and wellbeing can be true. By trusting one another, we were able to actually leave our work at work when we stepped out of the office. For Julia and Gillian, who'd been single EDs before, this was truly noteworthy and impactful.
If we feel something, we have to say something. A leadership team of four from four different sets of lived experiences can mean a lot of learning from our differences. Some of this surfaced in the leadership work we did on DEI alongside our organisational DEI initiative. We practised navigating disagreement or tension, regardless of scale or importance, by speaking up and listening closely when someone else spoke up.
There will be radical differences in the experience. Along the way, we learned more about the ways our experience as a leadership group was different from, or impacted, the experiences of team members. For example, we learned that it was important to communicate what we knew when we knew it, even when we didn't fully understand something ourselves, which often meant prioritising transparency over our own comfort.
Cultivating trusting relationships and shared understanding – especially in multicultural and remote settings – takes time and intentionality. Give it the time that it needs, and take forward the efforts on a daily basis.
🎧 Julia and Gillian talk about wellbeing:
🎧 Paola and Laura on wellbeing:
If you're looking to adopt shared or co-leadership
Go for it! While there's a lot to learn, the journey is worthwhile. Some tips we've picked up include:
Communicate, communicate, communicate. And communicate some more. In particular:

Share with the rest of the organisation (and your partners, peers, board and/or funders) what you mean when you're talking about shared leadership, co-leadership and power-sharing, and what that will look like in practice. It can be tricky to be clear, but that clarity is fundamental for others to join the ride.
Double check on who is responsible for what among your co-leaders, and be open to being checked on. This requires not just a clear set-up of responsibilities — based around where each person's strengths will have the greatest impact — but a routine practice of sharing what you're working on.
Check your assumptions about what your co-leaders know versus what the wider team knows. Even though (or especially when) a decision has been discussed at length amongst co-leaders, the rest of the team wasn't there, and transparency will require revisiting conversations about context, constraints, goals, visions and, only then, the decisions themselves.

Get comfortable sharing, and hearing, doubt and discomfort. It could be helpful to set up a process for voicing doubts, vetoing and/or for how decisions should be made (even when there's no doubt or discomfort).
Scheduling meetings, especially across broad swaths of time zones, might be your nemesis. Approach it with proactiveness (try to get things on the calendar as early as you can), flexibility (get comfortable moving meetings) and, if you can, support (thank you Jen!).
Build in time to adjust to diverse conversation styles, especially when leaders come from different cultures, language backgrounds and work environments. This can involve practices like getting comfortable with asking/receiving clarifying questions and building meeting agendas in advance so everyone can arrive with the necessary information.
🎧 Laura and Paola talk about communication:
🎧 Julia and Gillian on communication:
Looking at the path ahead
Where we sit now, we're committed to co-leadership, power-sharing and exploring alternate ways of building strong and resilient organisations. In some ways, what this looks like going forward is much like what it has looked like until now: employing intentionality and care to navigate both the expected and the unexpected! In other ways, it will look different. In the short term, we'll be saying farewell to Laura — who, after six years at TER, leaves the organisation with a deep love for and belief in the whole The Engine Room team!
We can't wait to see what the future of sharing power and leadership looks like at The Engine Room, and even more so in the organisations and movements around us as we build technologies, digital spaces and, ultimately, societies that are more just.
If you want to learn more about what our process has looked like, reach out to Julia, Gillian, or Paola. We'd love to hear from you!
While we've been walking our own path of co-leadership, we learned from many individuals and organisations on their own journeys. Some resources that we delved into include: