Over the past year and a half, The Engine Room supported the creation of a new organisation and their flagship anti-corruption project. The organisation, Japiqay, grew out of the deep political convictions and intense passion of its three woman co-founders: Gabriela Flores, Lourdes Chavez, and Lia Flores.
In December 2017, to commemorate the International Anti-Corruption Day, Japiqay officially introduced themselves as a new actor in Peruvian civil society and launched their first project, Memoria y Ciudadanía – a platform that fuels the investigations of activists and journalists, containing over 2000 archives related to corruption cases in Peru over the past four decades.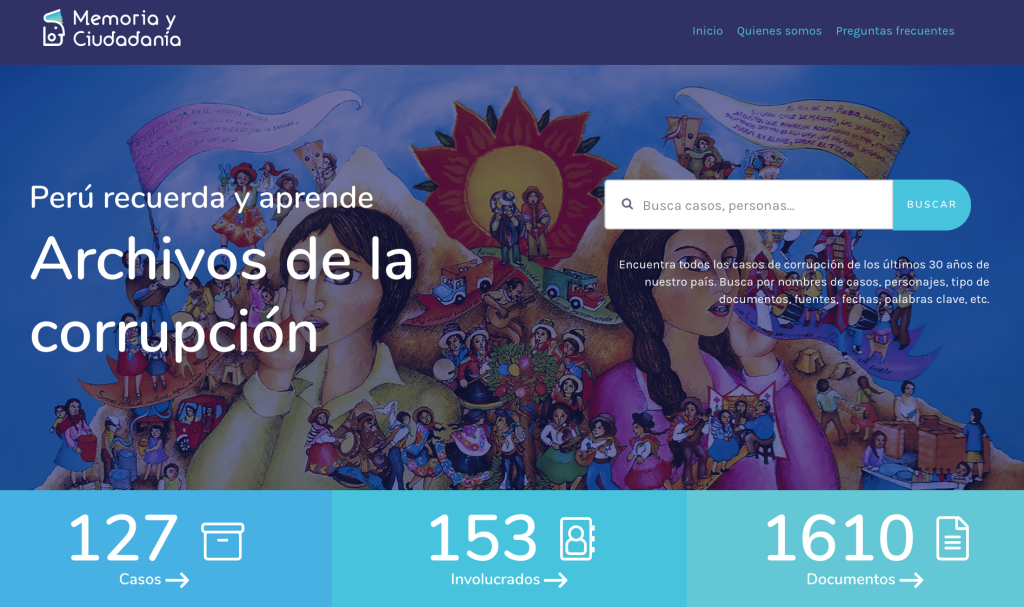 Japiqay means 'to learn and retain in memory' in Quechua, a language indigenous to Peru originating from the Inca culture. This memory is exactly what this new organisation strives to build.
Peru: Yesterday and Today
History repeats itself. So the adage says. But in the case of Peru, much of its history is too damaging for the country to endure again.
During the 80s and 90s, the citizens of Peru suffered through a tumultuous and dangerous period, fighting both the violent uprising of the Shining Path as well as the human rights violations committed by the armed forces in the anti-subversive war. During the following decade, crimes against humanity continued, and state corruption significantly worsened under the dictatorial government of Alberto Fujimori.
Today, with it's main political and business leaders under investigation on corruption charges, Peru continues to suffer.
The last four presidents are being investigated or have been convicted on corruption charges (Alejandro Toledo, Alan Garcia, Ollanta Humala, and the current President Pedro Pablo Kuczynski). The Panama Papers exposed numerous powerful players with ties to Lava Jato, the case from Brazil of the biggest international corruption operations committed by the construction company Odebrecht. Because of this and other political reasons, this past December, current President Kuczynski was almost ousted.
A Christmas Pardon for a Dictator
During the Christmas season, the 'Fujimoristas' – a sector of legislators led by Keiko Fujimori, the daughter of Alberto Fujimori, led the opposition in an attempt to impeach Kuczynski through a congressional vote. Yet, at the last minute, some of them mysteriously abstained or voted against the impeachment.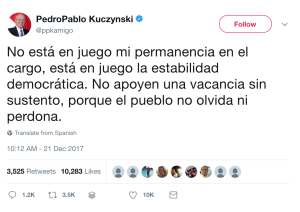 As thanks for keeping him in office, Kuczynski granted a humanitarian pardon to Alberto Fujimori, who was in jail serving a 25 year sentence for charges of corruption, abuses of power and human rights crimes.
As former justice minister Diego García-Sayán said, this pardon has no precedent in the international court of human rights. 'It is the first time someone convicted of grave human rights violations has been granted a humanitarian pardon in the more than 30 years of the court's existence'.
This exchanging of political favors at such a high level of government has severe implications for whether (or not) justice can be served in Peru.
In this context – facing widespread corruption and lack of trust in politicians and institutions – Japiqay's work begins.</ br>
The making of Memoria y Ciudadanía
Japiqay's flagship project, Memoria y Ciudadanía – powered by HURIDOCS' tool Uwazi – is a web platform that holds a catalogue of over 2000 documents, videos, and photos related to past cases of grand corruption.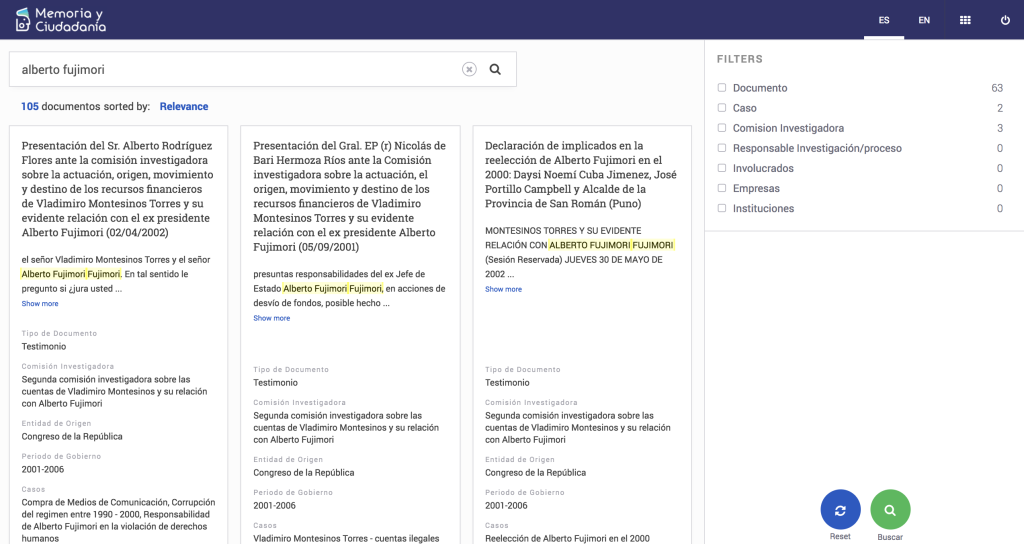 It makes it easier for interested civil society actors – journalists, advocates, activists – to find and use these for their own investigations and advocacy. Even government workers themselves have used this tool to find their own documents. The extensive amount of information in addition to the user-friendly technology make this platform a very powerful tool. The user can search by keywords – names, places, corruption cases – not only within the name of the archive or the tags associated with it, but within the documents themselves.
Over the past four years, Japiqay's Executive Director Gabriela Flores and Project Lead Lourdes Chavez have meticulously and quietly been gathering these archives.
Many of these archives are open to the public today, but buried so deep, it's practically impossible to find them. Others have mysteriously disappeared over the years, with excuses similar to 'the dog ate my homework' (or, in this case, 'the dog ate the archives that place blame on my party, my political ally, or me').
The preservation of these documents is critical exercise of historic memory. They are preserving a part of history. But, perhaps more importantly, they are preserving key evidence to navigate the complex current political climate in Peru today.
When they realised these documents were being disappeared, they began to collect copies of them in their spare time, on the weekends when Lourdes wasn't working as an digital archivist and Gabriela wasn't working as an investigative journalist or as a anti-corruption activist. These two women co-founded Japiqay because they believed in the power of evidence, of data, of archives, and of organised civil society to combat corruption and create a more inclusive and empowered citizenry in Peru.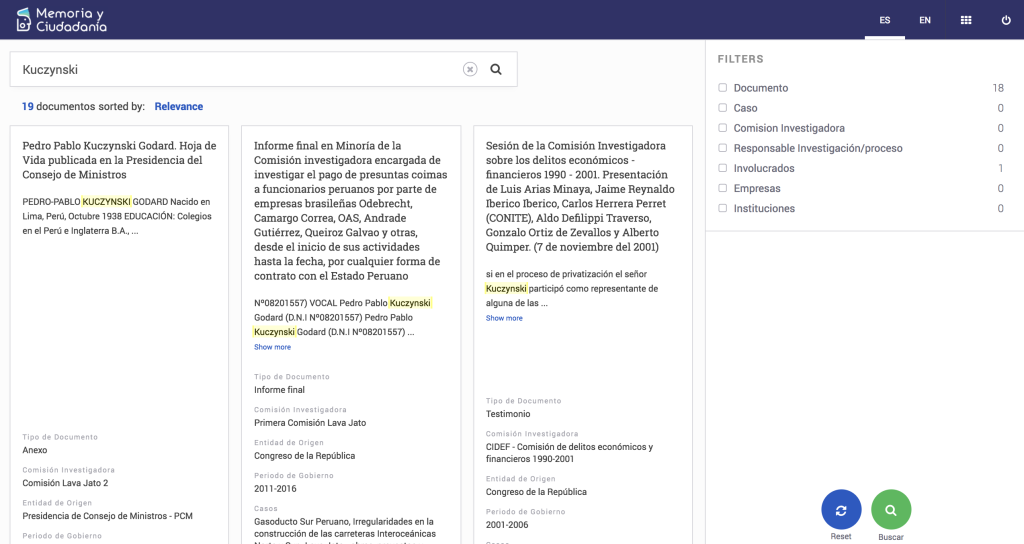 Working with and supporting civil society
Although this organisation is less than one year old, the three female leads have a combined four decades of experience as activists working in government, civil society, unions and investigative journalism. Their diverse experiences gave them a key ingredient for organisations that work in anti-corruption and accountability: political vision.
Today, Peru's civil society focussed on good governance and anti-corruption is growing stronger and stronger, with investigative journalist outlets like Ojo Publico, IDL Reporteros, and Convoca, and with transparency-focused organisations like Forum Solidaridad, AC Transparencia, Suma Ciudadana among others.
These organisations aren't rivals, but allies. As Japiqay's Lourdes Chavez said during AbreLatAm 2017, 'Japiqay is here to support your organisations and to work together, not to compete with you'. Part of the core mission of the organisation is to strengthen civil society through working with peer organisations that can use their tools and projects to facilitate their investigations and activism.
It was this vision of power and politics paired with sheer determination that led us to choose Japiqay as a partner through our Matchbox programme.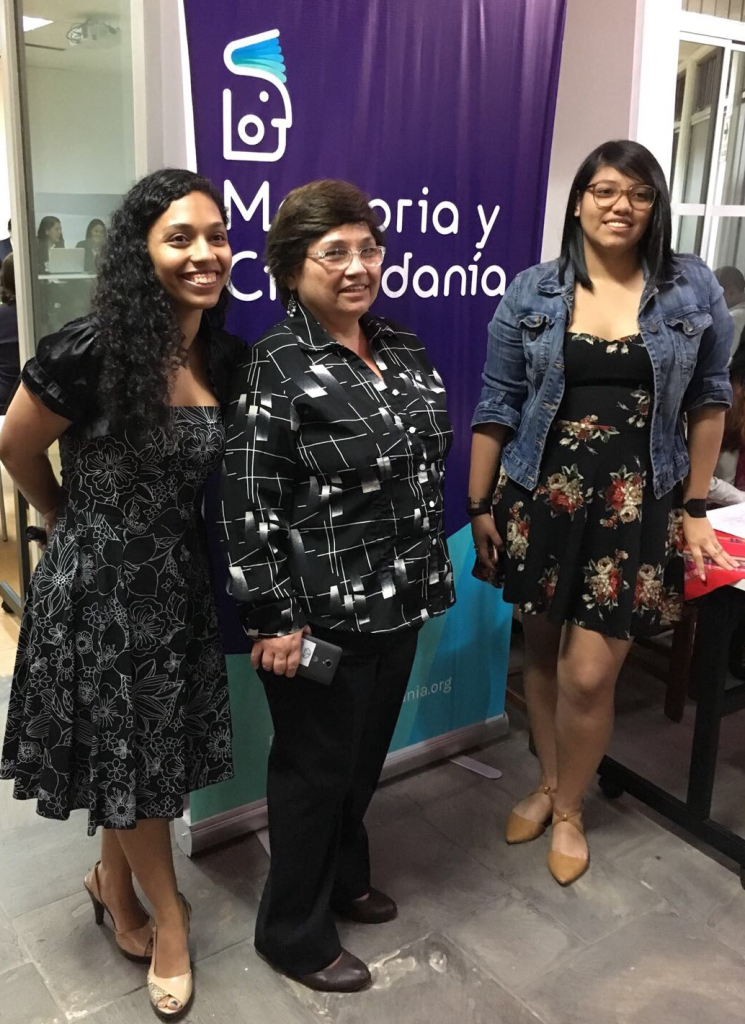 What's next for Japiqay
With Peru in the precarious political situation it's in – with corruption as present as ever before – now is the time for civil society actors to come together under one unifying strategy to balance the powers that be. All sectors, from open government to human rights, from investigative journalists to activists, have skills and knowledge to contribute.
Now is the time to put the cards on the table, organise them, and play the game as a team.
Japiqay stands alongside their peers and support this community. In addition to their experiences and skills, they bring all the information housed in Memoria y Ciudadanía. They will train and support the groups and individuals interested in using this tool to achieve their own objectives.
Because it's not just about the tool. Nor is it about the data or the technology. It's putting the tool to use. It's about supporting the work of others, to defend Peru together, using this collective historic memory to avoid new corruption cases.
It's about not allowing history to repeat itself.