This week, we held our annual retreat – where all core team members meet in person, and our office goes from being virtual to being a real, concrete house (in this case, one outside Nice, France.).
Last year's retreat in Barcelona was my first on The Engine Room team. Since then, we've grown in number as well as expectations of what we can achieve. It's been fascinating to see how that change manifests in the way we talk and think about our work. Perhaps more importantly, I recognised that our organisational health and culture really does underpin our approach to our work, in a way that's simultaneously invisible and yet present in everything we do.
"Culture eats strategy for breakfast"
As a distributed organisation, our culture can be hard to describe, particularly for external partners or communities who don't get to see us very often. But it's key to our success.
We could design the best strategy and even have the best people for the job, but if those people don't feel that they are in a supportive, healthy environment (personally and professionally), we would never reach our goals.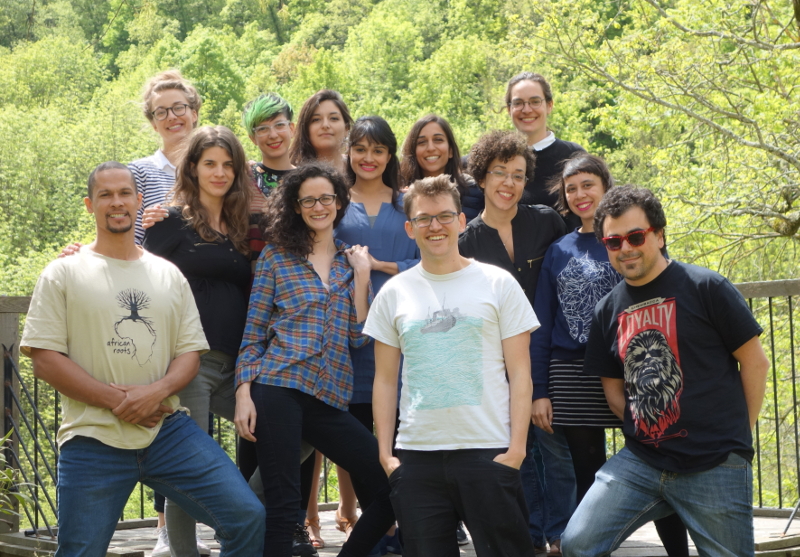 For this reason, we spent at least a third of our time thinking about who we are and how we maintain our culture as we grow in size. In particular, we prioritised issues that were easiest to talk about in person, like how to give and receive feedback in a healthy and productive way.
We all want to prioritise kindness and care personally about each other as we are today. But we also want each other to grow. To do that, we need to challenge each other to be better at what we do, to be constantly improving. Yet, communicating this need remotely can be difficult – particularly given the diversity of our team, as well as the varying contexts in which we work.
A instant message ping might be understood as casual or as highly urgent; a piece of direct feedback via email might be perceived as rude or as satisfyingly straight-to-the point; or being five minutes late for a call could be repeatedly annoying or totally natural.
To deal with these possible misinterpretations, we collaboratively developed two sets of best practices: one on how we want to receive feedback, and one on how we want to give it. On this basis, we agreed that challenging each other is a key part of the diverse, naturally curious organisation that we are.
Planning for serendipity
Chance conversations can lead to great things. We've all experienced getting a great project or partnership started after bumping into the partners by chance, or having that one special conversation that opened our eyes to a new way of thinking. Taking the time to make those connections after chance meetings or one-off conversations is part of who we are, and how we got here.
However, we need to plan our time carefully to create space for this. If done right, serendipity and clearly defined processes shouldn't be mutually exclusive. For example, we're trying to develop and refine replicable processes that make it easier to implement data and technology in social change projects, while still respecting the importance of local context.
Face-to-face time
Our in-person time is incredibly valuable because it allows us to advance not only our projects, but the way we think about what we do. It's far, far easier to talk about our interests, vulnerabilities, and goals in person than it is online.
This year, there was also something special about our retreat. We created a space where everyone could be their true selves, and share the things that scare and inspire them. We've grown in how we perceive ourselves – we're not a scrappy start-up anymore, but a support organisation that has already helped many others increase their impact through the strategic use of technology.
We're also a diverse organisation – not for diversity's sake, but because we relish complexity, and because we know that the solutions to hard problems can only be found with nuance and a multitude of perspectives and approaches.
Our culture is strengthened by each other, and it's important to note that our organisational culture been set on the right path by our leadership. Being at the helm of a flexible yet intentional organisation (made up of a lot of opinionated people) can't be an easy job, and I'm constantly in awe of how thoughtfully our Executive Director, Alix, supports us while creating opportunities for us to excel.
if this sounds like a team you'd like to join, we're looking for more people to join us. We're hiring right now for our first Head of Product, and we're so excited to grow our Transmission team under their leadership. Get in touch if you want to learn more – we look forward to reading your application!