As an organisation we are committed to responsible data, which includes practices such as data minimisation, seeking consent, establishing a RAD plan (or a plan for Retention, Archival and Deletion of the data we use in our work) and more.
Last week, in the spirit of starting the work year with some RAD energy, our team got together to have a "digital declutter fest". Equipped with a cleaning-themed playlist (including tunes like Outkast's "So Fresh, So Clean" and Hilary Duff's "Come Clean"), we went through folders from past projects and listed which subfolders and files needed to be "cleaned" or re-organised.
During the declutter session we didn't actually archive or delete files from our shared Drive.We used the template below to identify what needed to be deleted or archives and what needed a closer review (by project managers or other team members who worked on the project).
We especially kept an eye out for files that could possibly include personal data and/or sensitive data, and also files that have not been used in a long time and that we wouldn't need in the future (such as email drafts or notes from calls with partners from projects that are no longer active). In short, every time we saw something that required further action, we made a note of it on the template.
At the end of the session, we reflected on the process, noting how this was a practical way of acting on our Responsible Data values. We talked about the importance of taking care of the data and information we might hold on our partners and research participants (like email addresses and interview notes), the usefulness of reviewing our RAD plan frequently (especially when working on long projects in which many years worth of information can accumulate) and the ways we can make a habit out of digital decluttering our organisational and individual files.
After the call, we divided up the work of actually reviewing the identified files, with plans to responsibly archive the things we want to keep and delete what we no longer need.
Declutter your own digital space
If you're interested in having a similar digital decluttering session with your team, feel free to use and adapt the template we used (reproduced below!).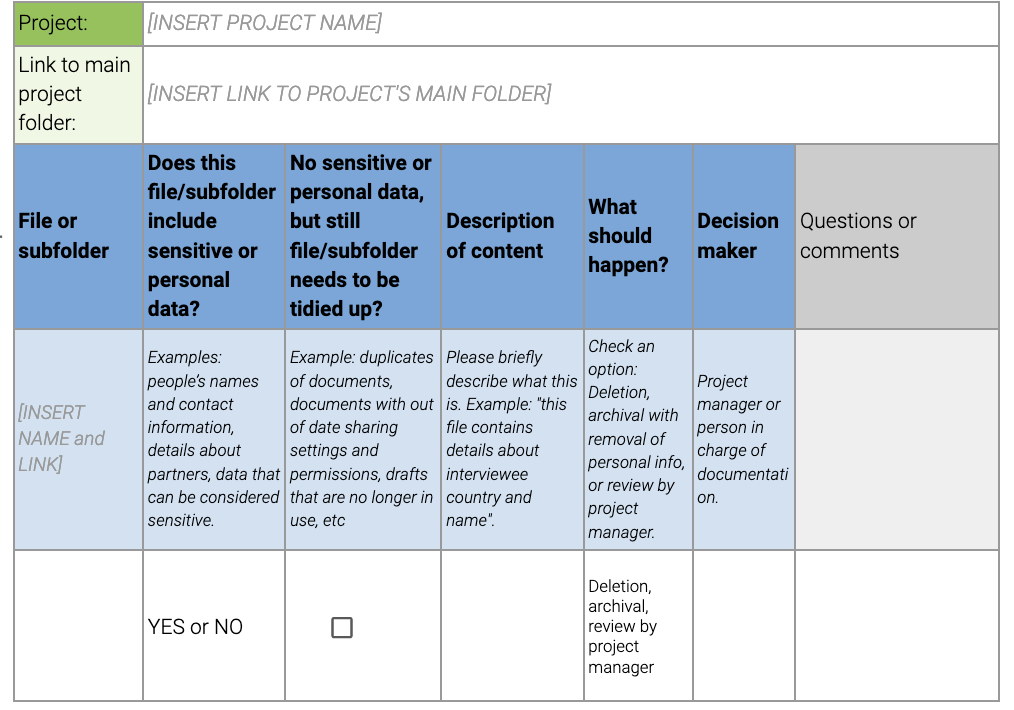 I would also recommend taking a look at our resource "Becoming RAD – How to Retain, Archive and Dispose of data responsibly". It's a short collection of tipsheets designed to support civil society organisations taking the first steps towards becoming RAD and developing responsible and streamlined processes for retaining, archiving and deleting data, currently available in English, Spanish and French.
We are also around to provide direct support to your organisation if you're curious about responsible data. Get in touch!
Image by Steve Johnson via Unsplash.